Training specialist is responsible for enhancing the competencies of individual employees by designing and conducting training programs that ensure effective learning. You are responsible for coaching, development and following up with employees during their probationary period. You will also be responsible for performing training needs assessments, designing and delivering curriculum and learning materials and for managing all phases of training interventions.
What you will do:
Design and deliver training programs including induction, employee development, management development, systems, product, desktop training, etc.
Plan, organize and direct a wide range of training activities.
Research, write, create, develop training materials.
Participate in and lead meetings to determine training requirements.
Manage training calendar.
Deliver training using a variety of methods to include classroom learning, computer aided training manuals, etc.
Work with Internal POCs Leads to ensure training is delivered to the highest quality and efficiency.
Attend to all training administration.
Evaluate training courses and materials and make continuous improvements as required.
Research and develop Compulsory Basic Training and web based training materials.
Conduct feedback sessions on training programs and make changes accordingly.
What we expect from you:
At least 6 months within current role.
Operations experience, preferably in AR or Training department.
Fluency in English both spoken and written is a must.
Have exposure and aptitude to the training environment.
Applies principles of adult learning in the design and delivery of group training at all levels.
Demonstrates continuous effort to improve processes and work cooperatively and jointly to provide quality and seamless training excellence.
Excellent interpersonal and communication skills.
Ability to work in a fast paced environment.
Knowledge of up to date and innovative training techniques.
Manage own time and ensure that the training is timely and effective.
Strong influencing skills with the ability to influence at all levels.
Personal Attributes required Proactive and self motivated.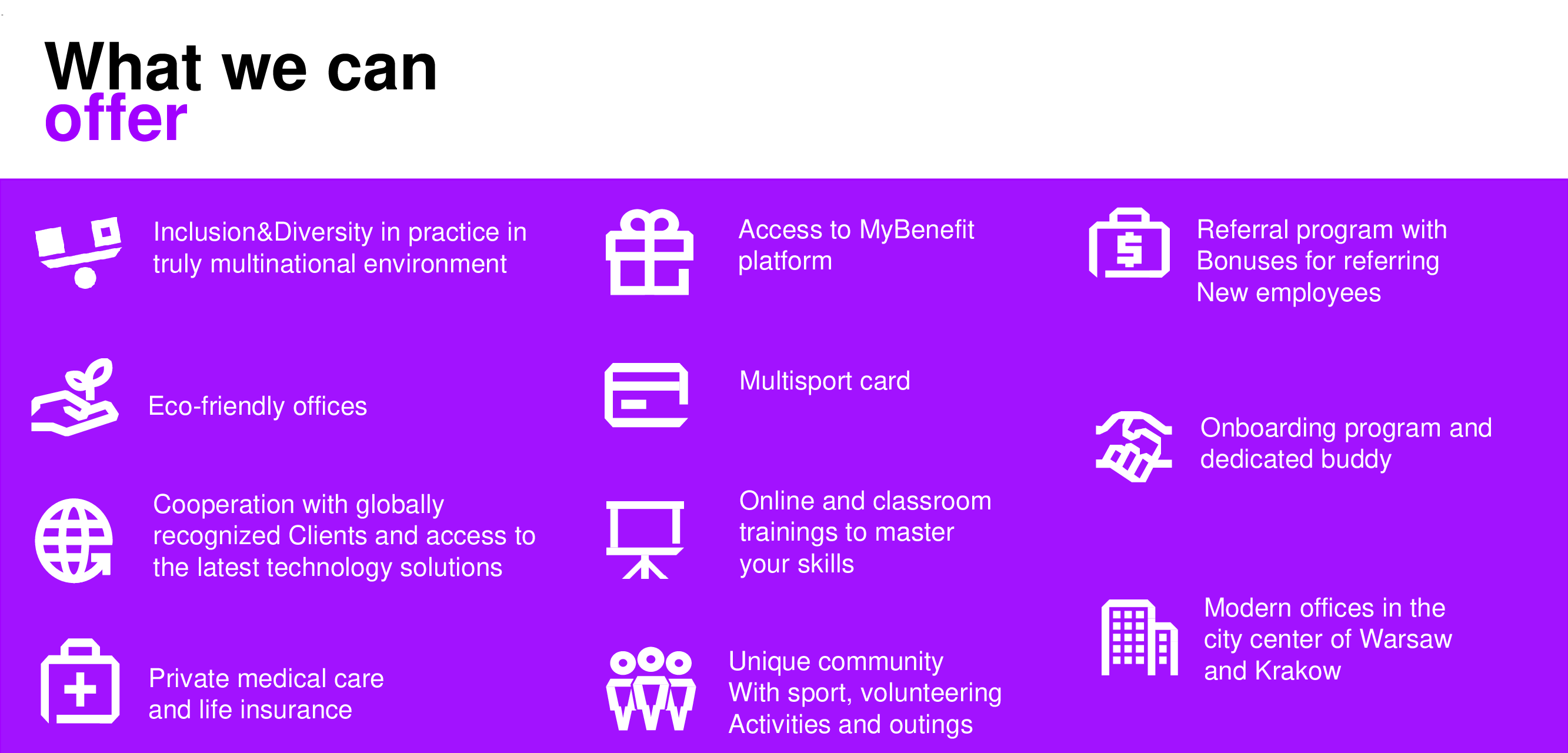 What we can offer:
Inclusion&Diversity in practice in truly multinational enviroment
Eco-friendly office
Cooperation with globally recognized Clients and access to the latest technology solutions
Online and classroom trainings to master your skills
Onboarding program and dedicated Buddy
Unique community with sport, volunteering activities and outings
Access to MyBenefit platform
Multisport and lunch card
Private medical care and life insurance
Referral program with bonuses for referring new employees
Modern office in the city center of Warsaw
Chill room, game room, library and coffee-breaks at terrace